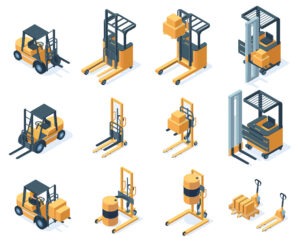 If you find yourself looking for new forklifts to supply your warehouse, it is important to know that there is a large number of forklift types and a wide selection of brands available. With that being said, finding just the right lift truck for your work settings can be challenging, but it's possible when you have professionals to help. We break down the different classes of forklifts to help you learn more. 
Various Classes of Forklifts
Class 1: Electric Motor Riders  
The first class of forklifts consists of electric counterbalanced trucks that come in both sit-down and stand-up forklift options. The term "counterbalanced" is used because these forklift trucks gain stability by allocating weight towards the center of the rear of the vehicle. Rather versatile, they can be used in dry, outdoor applications in addition to storage facilities or warehouses. 
Class 2: Electric Motor Narrow Aisle 
As the name suggests, the second class of forklifts is for companies that operate in very narrow aisles and settings. Class 2 machines are made for indoor settings and are best used in warehouses with large quantities of materials stacked on shelves. The second class of forklifts consists of order pickers, reach trucks, and turret trucks. Order pickers have a platform that rises with the forks so that the operator can be eye to eye with the pallets. Reach trucks are equipped with dual forks in the front of the vehicle that rises while the operator stays on ground level. 
Class 3: Electric Motorized Hand Trucks 
These hand-controlled forklifts require an operator to be in the front of the truck to control the lift through a steering tiller. All of the controls for the vehicle are mounted on top of the tiller, to which the operator moves the tiller from one side to another to be able to move the truck. These Class 3 vehicles run on smaller capacity units that utilize industrial batteries. Most Class 3 lifts consist of pallet jacks, two tractors (tuggers), pallet stackers.
Class 4: Internal Combustion Engine Trucks 
Equipped with cushion tires, these forklifts are for indoor settings on smooth, dry floors for ease of transporting palletized loads throughout storage areas and warehouses. Commonly referred to as ICE (internal combustion engine) Cushion trucks, these vehicles can handle a wide range of tasks. These trucks are popular in companies because they are efficient choices for saving time and warehouse space, and they do not require charging. 
Keep in Touch with the Professionals at Prana Machinery to learn more about All The Classes of Forklifts! 
The professionals here at Prana Machinery are here to help you learn the most about different classes of forklifts and other kinds of equipment. There is still so much more information we have to cover, so don't hesitate to visit our site or contact us to learn more!